Step 1: Create an account and add credits
To send an SMS with 46elks you first have to create an account. Go to the registration page and fill in your details. You will then receive an automatic phone call or an email to verify your new account.
To start using 46elks to send a text messages you will need to purchase some credits. The minimum purchase is 10 EUR, which is more than enough to get started.
Step 2: Locate your API credentials
The 46elks API uses Basic Auth to verify API calls which requires a 46elks username and a password. You will find your "API Username" and "API password" in the dashboard. Here is how it looks.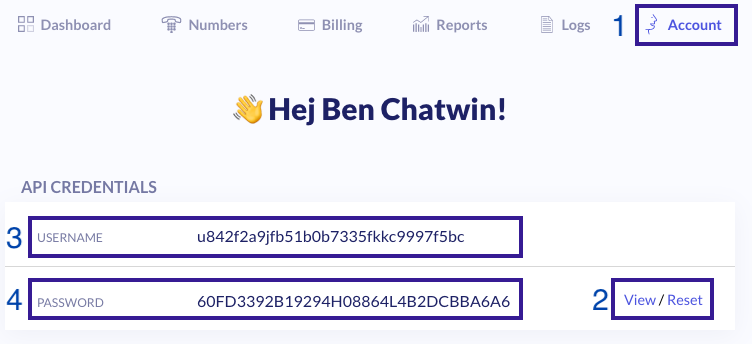 The username and password should be used for every API request. That way 46elks knows who you are and what you are allowed to do (like sending an SMS from your phone number).
Step 3: Send an SMS
Finally, it's time to write some C# code. Your code needs to be able to do the following:
Define the content of the SMS [message], who will receive it [to] and who is the sender [from]
Attach your API-username and API-password as BasicAuth to the HTTP Header.
Send all this information to 46elks by an HTTP POST to https://api.46elks.com/a1/SMS
Receive the response and handle any errors that might occur
Here's a code example:
And here's an example project file (tested in .NET Core 5.0):
Tip: The phone number to send to should be formatted with country code and without spaces, dashes or parentheses. For example +468123123 and not 08-123123 or +46 (8) 123 123.
If you are new to .NET Core, here are some additional pointers for you:
Download and Install .NET Core.
Open your terminal and run the following commands. The commands creates a program file, then adds a Json package to the program file:
Use your favorite code editor to replace the content of Program.cs with the code example. Edit the message, recipient, sender and the API authentication.
Now you can run your code. If you are using the terminal it will look like this:
If successful, you should expect a result similar to this:
Some tips on SMS parameter formatting
The basic API request to send an SMS must contain these three key:value pairs which are to, from and message.
"to" - Who you want to send an SMS
The "to" parameter should be the E.164 formatted number of the recipient.
Example:

"from" - Who you want to send the SMS from
The "from" parameter should be either an E.164 number or a string. That string is often called a "Text sender" or an "alphanumeric sender ID".
Example text sender:

Example alphanumeric sender ID
:
"message" - The content of the message itself
Fun fact about the "message" string - you can even send emojis!
Example:

Here is a full data packet: